Parks and the Parks Committee
Parks Committee advises the Board on the management and development of Association-owned common park areas and open spaces. These parks are for the use of our homeowners and residents. There are nine locations within LHA's boundaries which are maintained by the Association through a yearly assessment. Here are the strategic plan and calendar of development activities for LHA's common parks.
The Parks Committee meets on the 2nd Wednesday of each month at 7:00 PM at the LHA office at 907 Underhills. Come and join us or sign up with your email at the office to help on work party days.
Rosemount Park's
new remodel 2012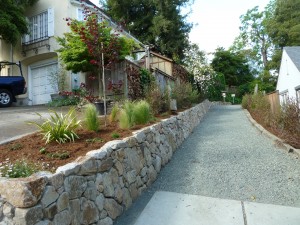 Oak Grove park's Paloma entrance and interior path.